Hi everyone!
My new sexy BDSM novella, Teach Me, is now live in the Kindle store. Heroic biker Eric has a secret that makes it dangerous for young enterprising Amber to be around him, but how can he drive her away when all he wants to do is tie her up and have his way with her?
Conflict, love and some hot and steamy bondage and sensation play merge in this new release. I really hope you'll enjoy it!
Remember that my books can be borrowed at any time at no charge if you have Kindle Unlimited! Hope you enjoy them, and please don't hesitate to leave a review! They help me a ton!
Get it now at Amazon, Amazon UK or at your closest Amazon storefront!
---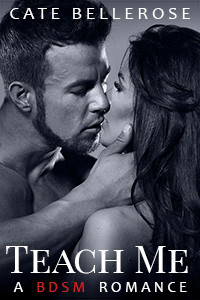 To keep her safe, I have to push her away.
Amber's smart, sexy and too damn stubborn for her own good. This job isn't what she thinks, and working with me is dangerous. I try to keep my distance, but she keeps coming back and every time it gets harder to let her go.
I can't always be there to protect her, but how can I push her away, when all I want to do is tie her down and make her mine?
– – – – –
Eric. My hero. My adversary. My weakness.
He roars into my life on his bike, driving me crazy. One moment he chases me away, the next he's tying me up and making me scream with pleasure. I don't know his secret, but no way will I let him scare me off without a fight. Not now that he's let me in.
I'll keep coming back until he figures out what he really needs.
Me.