Hooray! My debut novella Make Me is now live on Amazon! It's a sweet love story between a brat and the Dom that comes to love her, mixed in with some seriously hot BDSM smexy times! I hope you guys enjoy it!
Get it now at Amazon, Amazon UK or at your closest Amazon storefront!
---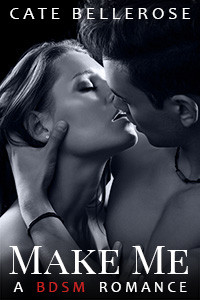 Sassy mouth, spankable ass, curves that won't quit. I can't get Dawn off my mind.
The chemistry in our scenes is off the charts, but me and love parted ways a long time ago. I can't let her get used to me riding in to save the day every time she's in trouble, but now she's under my skin, and to make her behave I might just have to make her mine.
– – – – –
Gabriel loves my bratty attitude, and I love the way he puts me in my place. No Dom has ever worked me over like he does. It's like he knows my body better than I do. What it needs. What it can take. He doesn't want a relationship, but that's okay. I don't need forever, so long as he gives me tonight.
That all changes when he saves my life. Now I'm falling hard and fast, but it'll take more than making him breakfast to convince him I'm not like his bitch of an ex. He needs me as badly as I need him, and I'm going to prove it the best way I know how.
By giving him a challenge he'll never be able to resist.
Me.