It's finally here!
I'm thrilled to announce that my new novella, Keep Me, is now available on Amazon at a launch price of $0.99, or at no charge if you're in the Kindle Unlimited book lending program!
Many readers have asked if was going to get to Caleb and Vivian's story, and now I have. Their story is a bit longer than my previous books but I don't think you'll mind. 🙂 I really enjoyed writing this, and I really hope you enjoy reading it.
Thank you very much for reading my stories. As an independent author, reviews are one of the best ways for new readers to notice my books, so if you enjoy it, it would make me so happy if you were to leave a review on Amazon and/or Goodreads.
Get it now at Amazon, Amazon UK, or your favorite Amazon storefront!
---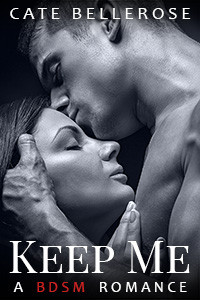 Vivian broke my best friend's heart. Can I trust her with mine?
Naked. On her knees. Eyes down, back straight. She aches for a master.
Too bad it's all an act.
She can pretend all she wants, but now that she's under my skin, that's not good enough. Not for me. Not when I see how badly she needs me. Not when I think of all the things I want to do to her.
I can't redeem her, but I can be her rock until she finds her own way.
Until she submits, body and soul.
– – – – –
If you ask Caleb, I'm a hot mess waiting to happen. And he's right.
Even my ex, the man I thought I knew, gave up on me. Why Caleb hasn't done the same is a mystery. He keeps me safe, and makes me strong, but what can I offer in return?
My submission. A gift I give him gladly because every cell of my body stands at attention when he commands me to serve.
I only have one thing to ask in return.
Keep me.
---
Amazon Giftcard Giveaway!
Unrelated to my new release, sixty top romance authors have gotten together and set up a giveaway of $600 worth of Amazon giftcards at Rafflecopter, In exchange for newsletter signups.
Go check it out!